Mauricio Pochettino must lead Spurs to silverware before they overtake their rivals in the north London hierarchy, the former forward believes
Thierry Henry insists he is not envious of the direction Tottenham are heading in, despite Mauricio Pochettino's men beating Arsenal 2-0 in Sunday's London derby.
Spurs again closed the gap between themselves and Premier League leaders Chelsea to four points with the victory, while also dealing a blow to the Gunners' hopes of a top four finish.
And though the rivals appear to be moving in opposite directions in terms of success, former Arsenal forward Henry believes that Spurs need to win trophies before they overtake Arsene Wenger's men in the north London hierarchy.
"Not envy, because after 20 years they still don't have anything to show for it, so far," Henry said on Sky Sports . "I know they are trying to."
Referring to fellow player-turned-pundit Frank Lampard, who won three Premier League trophies, four FA Cups, and two League Cups during Chelsea's upward trajectory under Roman Abramovich, Henry insists until Spurs do something similar that there is no shift in power between them and Arsenal.
"I have a man next to me, for a long time we were beating them," Henry added. "Then, at one point, I was like 'hang on a minute, they [Chelsea] are doing something right'.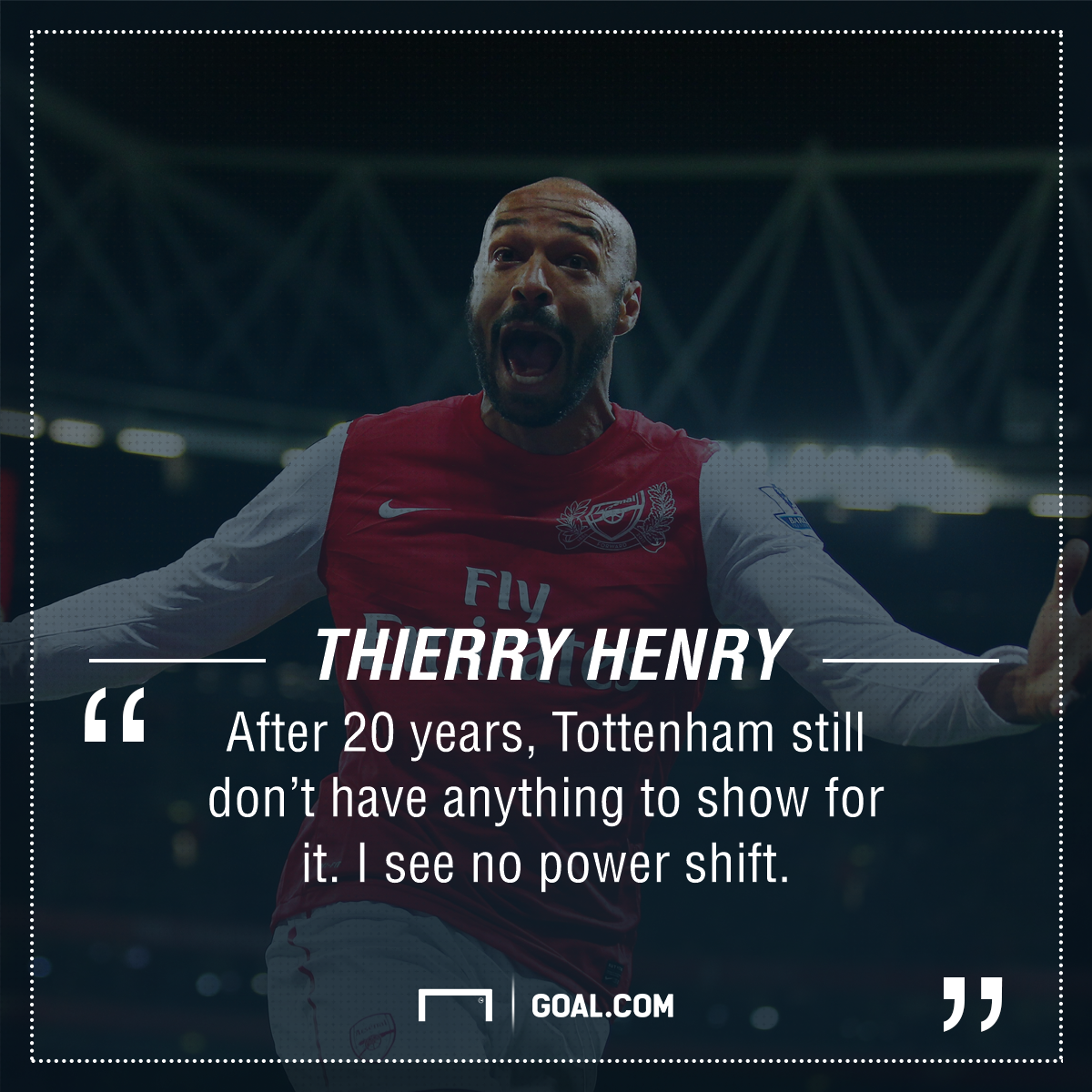 "They had won the league, then they won the league again, and then they won the cup. They won something with it, and we thought 'hang on, the power is shifting'.
"At the moment I don't see any shift."
Former Spurs midfielder Jamie Redknapp agreed with Henry, and went on to suggest their performances in European competition also need to improve.
"Thierry is right – they need to start winning things," Redknapp said. "You can't be going out of the Champions League as early, and you need to be winning trophies, the FA Cup – that's what will take them to the next level, that's what Chelsea did."