Ian Hutchinson made it an Isle of Man TT double as he added victory in the RL360 Superstock race to his win in the Monster Energy Supersport race one triumph on Monday, smashing the superstock lap record in the process.
On his very first lap and from a standing start, Hutchinson went quicker than any man has been around the Mountain Course on a superstock machine, which beyond a few minor modifications can be found in your nearest motorbike show room. Hutchinson was also able to end Tyco BMW's barren run, recording TAS Racing's first victory since 2008.
"[I'm] Just pleased to get the first win for BMW and Tyco BMW," said Hutchinson afterwards.
Asked if he got the message that Dunlop had retired, Hutchinson said: "I did when I was about 20 seconds out [in front]. It's a shame as it's good to have Michael Dunlop in the race but I felt strong and was pulling away."
Having had issues with backmarkers during his supersport victory in the morning, Hutchinson admitted that the race went much smoother this time round. "Because I wasn't pushing hard I was taking it easy and there was a crash at the end of the Cronk-y-Voddy straight so there were yellow flags for two laps. She's a bit lively down Bray Hill, just where you drop off the crest on the right, I had a lock-to-lock moment in front of John and then again on the last lap."
For Harrison though, he joined Hutchinson on the podium for the second time in a day, and he was clearly delighted afterwards despite not getting off to the best of starts.
"I got off to a really bad start," he said. "For my first board I was P7 and I thought 'what am I doing here' so I had to pull my finger out.
"I can't explain it, I think I just got out the blocks slow, and needed a kick up the arse if I'm honest."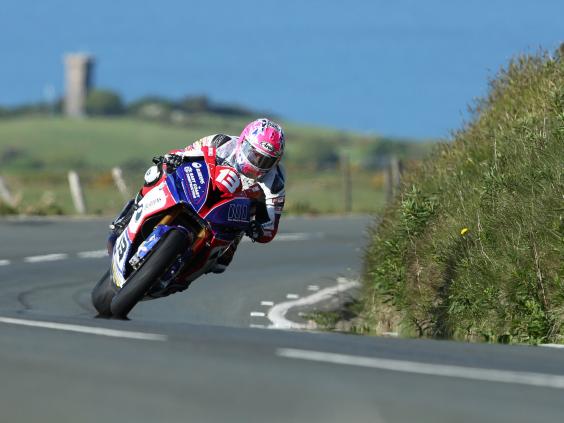 Hutchinson didn't have to worry about his nearest rival in Michael Dunlop either, given that the Northern Irishman was taken out of the running early on after a mechanical failure.
Dunlop was running in second from the start but lost 15 seconds throughout the opening lap, and the 12-time TT winner hit pit road upon his return to the Grandstand with what was revealed to be a problem with his gear lever, which had fallen off. Dunlop was forced to retire and immediately left the pits only to discover he had also been disqualified from the morning's supersport event to cap a miserable day, while Bruce Anstey's disappointing start to the week continued with his second retirement in three races.
Hutchinson was flying though, and he obliterated the superstock record of 131.220mph with a storming 133.098mph average, and with Dunlop out of the running the 'Bingley Bullet' was out in front with a 30-second advantage at the halfway stage.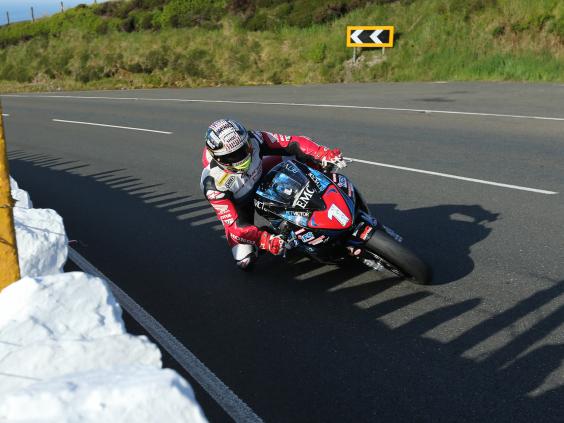 Behind him though an enthralling battle for what was now second was unfolding. James Hillier had battled his way up to second ahead of Gary Johnson, who made a fantastic start to slot in behind Hutchinson and Dunlop before being caught.
Dean Harrison and Michael Rutter were also in the mix along with Lee Jonston, and as they all headed for the pits it was Hillier in second, 6.196 seconds ahead of Harrison with Johnston a further 4.533 seconds back.
Peter Hickman's frustrating day continued as he exited the pits, only for the Kawasaki ZX10R to chug to a halt and confirm his second retirement in as many races.
It was also confirmed that James Cowton, having worked his way up to 11th, had come off at the 11th milestone, but the good news was that he was reported as ok immediately after.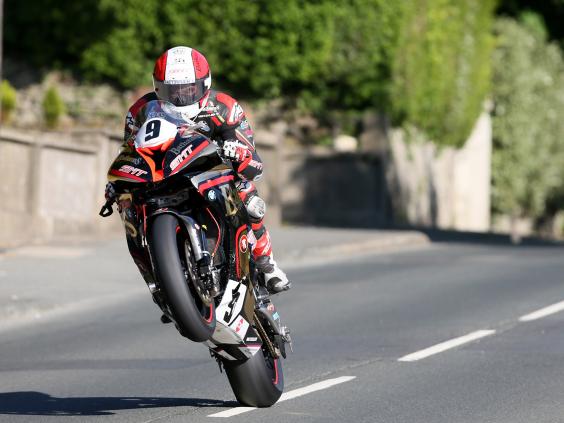 Once the pit stops had played out and Hutchinson had picked up where he'd left off, his lead had increased to 36 seconds and was cruising towards his second victory of the day.
Under the radar though came 23-time TT winner John McGuinness as a fast stop helped the 'Morecombe Missile' go from seventh to fourth by Glen Helen on lap three. The problem for McGuinness was that Harrison was doing his best to snatch second away from Hillier, with less than three-quarters of a second separating the pair at Ballaugh Bridge.
Results
1. Ian Hutchinson
2. Dean Harrison + 27.644 seconds
3. James Hillier + 29.549s
4. Michael Rutter + 58.504s
5. Gary Johnson + 1:01.749 minutes
6. John McGuinness +1:10.51m
7. Conor Cummins
8. Williams Dunlop
9. David Johnson
10. Steve Mercer
Hillier was keeping Harrison at bay, with the pair well clear of McGuinness who by now had made fourth place his own. Hutchinson though had built an incredible 40-second advantage over the Kawasaki of Hillier, who looked to be heading back to the podium for the first time since last year's Senior TT.
Hutchinson managed the gap throughout the final lap of the race as he eased off the pace, knowing he had a significant lead due to Dunlop's retirement. The battle raged on for the other podium places, with Hillier charging to try and hold off Harrison. However, Harrison hadn't given up and he passed Hillier by the time they reached Ballaugh on the final lap, leading by just 0.295 seconds.
As Hutchinson swept across the line to take his 13th TT victory to move into outright fifth on the all-time winners' list, one victory ahead of Dunlop and just one shy of Mike Hailwood's mark of 14, all eyes looked down the Glencrutchery Road for who would prevail in the battle for second.
30 seconds went by from Hutchinson taking the flag to Hillier crossing the line, but it was confirmed that it would be Harrison on the second step of the rostrum as the Silicone Engineering Kawasaki crossed the line 27 seconds behind Hutchinson but crucially 1.905 seconds ahead of Hillier. Rutter managed to record a fantastic last lap of 131.118 to beat Johnson and McGuinness to fourth.