Legendary Canadian ice hockey player Gordie Howe, who was nicknamed "Mr Hockey", has died at the age of 88.
Howe spent most of his career with the Detroit Red Wings, winning the Stanley Cup four times.
He was in the top 10 of scorers for 21 consecutive years and was named Most Valuable Player six times, before finally retiring in 1980.
Howe was also named an NHL All Star 23 times and was inducted into the hockey Hall of Fame in 1972.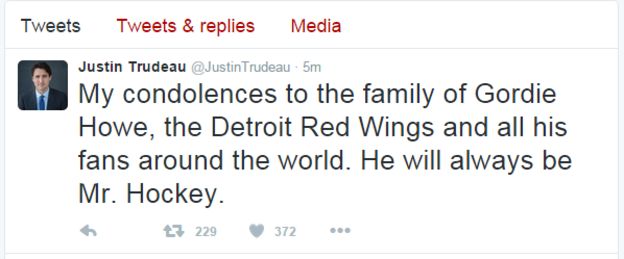 Gordie Howe died just before 08:00 on Friday at his son's home in Ohio, according to Sportsnet and CBS News. CNN reported his son Marty as confirming the news.
Howe's death was confirmed on the Twitter account of the Detroit Red Wings but it did not provide details on the cause.
Gordie Howe had suffered a stroke in 2014.
He made his debut in 1946, played 26 NHL and six World Hockey Association seasons and held many of the scoring records until the rise of fellow Canadian-born legend Wayne Gretzky.
Howe retired in 1971 but made a comeback with the Hartford Whalers in 1979-80 before finally quitting at 52, making him the only player whose career spanned five decades.