At least 37 people were arrested on another day of trouble in Lille which culminated in riot police repeatedly charging at England fans.
Tear gas, pepper spray and batons were used on English – and some Welsh – fans several times on a day when 16 people were taken to hospital.
After a tense stand-off at about 10pm, police rushed at a group of approximately 200 supporters who were singing and setting off flares outside a pub.
The police charged towards the bar and then administered tear gas in order to disperse the fans.
There were also clashes between English and French supporters later in the evening, despite a certain section of the fans attempting to keep the peace, and Lille police reported that 16 people had to be treated for injuries in two hospitals.
However, the head of Britain's Euro 2016 policing operation Mark Roberts told Sky Sports News HQ that none of those arrested after midnight were British, with the majority of those involved in baton charges being French.
He also confirmed there was no English-Welsh animosity, but that fans should realise the French policing style is different and robust, with the scenes in Lille largely disorderly and anti-social rather than violent.
A statement from UEFA on Thursday morning read: "UEFA regrets the skirmishes which occurred in Lille last night. Police forces made several arrests and were quick to restore order and keep the situation under control."
The evening's events followed a day of sporadic trouble in Lille ahead of England's Euro 2016 Group B match with Wales in Lens, where police are expecting 50,000 fans from the two countries on Thursday afternoon.
England fans had gathered outside the city's main train station earlier in the day in anticipation of Russia supporters arriving back from the Stade Pierre-Mauroy following their side's 2-1 defeat to Slovakia at Euro 2016.
There were unconfirmed reports of fights between fans breaking out, but order was restored by police, who prevented a major confrontation by ushering Russian supporters through a back exit.
Pepper spray and tear gas were also briefly used by police to push England fans away from the train station.
A number of England supporters then broke off from a larger crowd that had congregated outside a bar and attempted to exit the main square, but were met by a line of riot police.
A second line of police then advanced from another corner of the square to force back the England fans, who were making their way towards a separate exit.
In total, 36 people were arrested on Wednesday, 12 of them Russian, including six who were involved in the violence that occurred before and after Russia's match with England in Marseille last Saturday.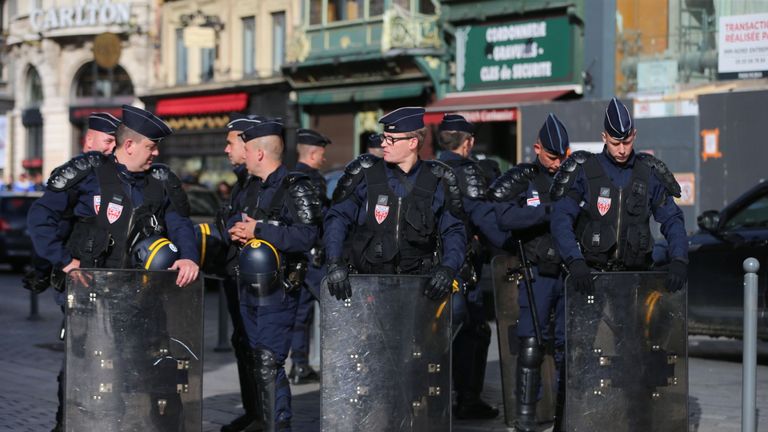 Violence between rival supporters has marred this summer's competition and Russia have been handed a suspended disqualification from Euro 2016by UEFA following crowd disturbances during the match against England.
Six England fans have been jailed in France, while another supporter was arrested on his return to the UK and has been banned from watching football for  the next five years.
A small number of extra British police are being sent to France, while officers are working to identify 48 supporters involved in clashes.