Canada's Denis Shapovalov has been fined $7,000 (£5,600) after hitting an umpire in the eye with a ball.
The 17-year-old was trailing Great Britain's Kyle Edmund 6-3 6-4 2-1 when he struck the ball in anger and hit Arnaud Gabas – and defaulted the match.
He must pay $2,000 for the default and $5,000 for unsportsmanlike conduct, escaping the maximum $12,000 penalty as it was not deemed intentional.
The International Tennis Federation has said no further action is anticipated.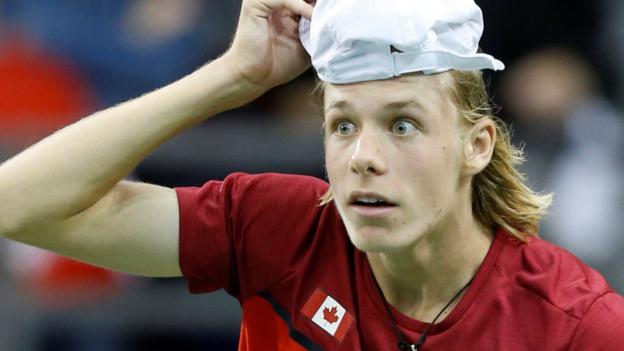 The Davis Cup World Group first-round tie in Ottawa was poised at 2-2 after Vasek Pospisil beat Dan Evans to set up a decider, but Canada's hopes ended when Shapovalov was disqualified after letting frustration get the better of him.
He later apologised to Frenchman Gabas in the match referee's office before the umpire went to Ottwawa General Hospital as a precaution.
No damage to the cornea or retina was found and Gabas will see an eye doctor in France on Tuesday for a further examination.