A Chinese entrepreneur is offering a reward of $1.45m to anyone who can defeat a top class fighter. It's the latest twist in the social media whirlwind surrounding one very brief but significant fight, as the BBC's Yashan Zhao explains.
Xu Xiaodong turned the Chinese martial arts community on its head two weeks ago with his highly controversial fight against Wei Lei, a master of the ancient art of tai chi.
The long-awaited showcase battle was intended to prove whether tai chi could really be a match for the modern, highly aggressive fighting discipline of Mixed Martial Arts (MMA).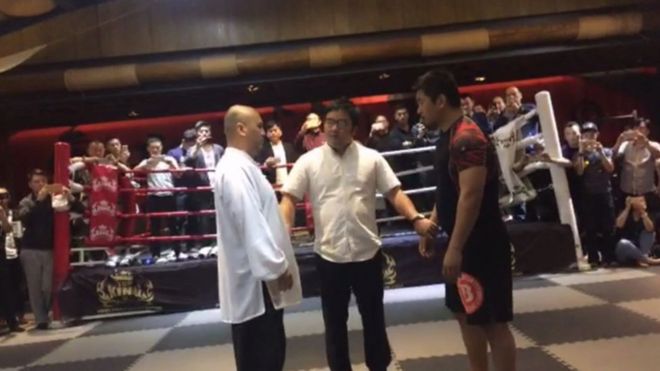 When weeks of planning came to reality, at a venue in Chengdu, Mr Xu soundly beat Wei Lei. The fight lasted only 20 seconds – Mr Xu says he had bested his opponent within seven seconds.
Millions of people have since watched video footage of the competition, and it has triggered a huge discussion in China on whether traditional martial arts – or wushu – can ever truly be effective in combat.