UFC fighter Nick Diaz has been provisionally suspended for missing three drug tests.
The UFC says it has been informed by the United States Anti-Doping Agency (Usada) that the 33-year-old American failed to provide whereabouts information for drug testers for out-of-competition tests three times in a 12 month period.
Diaz has been out of action for over two years and has not had a professional MMA fight since his loss to Anderson Silva at UFC 183, which was eventually overturned when it became clear that both fighters had taken illegal substances prior to the fight.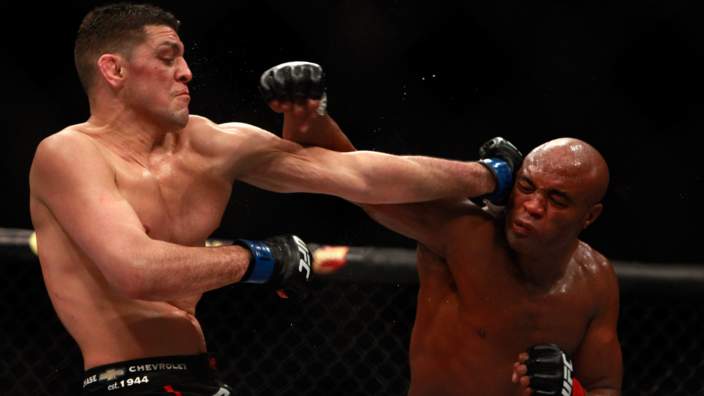 Diaz tested positive for marijuana after his fight with Silva in 2015, despite the claims he made earlier in his career that he had a method for avoiding detection during drug tests.
"I can pass a drug test in eight days with herbal cleansers" he said in 2009. "I drink 10lbs of water and sweat out 10lbs of water every day. I'll be fine."
The American fighter was also suspended when he tested positive for cannabis in 2012 following a loss to Carlos Condit at UFC 143, and in 2006 following a win over Takinori Gomi at Japanese fighting championship, Pride 33.
Diaz's public recreational use of the drug has molded a new image for the Stockton-born fighter in recent years and his younger brother Nate Diaz also appears to have followed in his footsteps.
Nate Diaz – who became the only fighter in the UFC to have defeated Conor McGregor in 2016 – has also been open about his use of cannabis on his social media accounts.
After a rematch with Conor McGregor at UFC 202 which resulted in a loss, Nate Diaz faced extreme controversy when he smoked a vape pen in a post-fight press conference whilst answering questions from the media.
Diaz stated that the pen contained a drug called CBD – a drug that contains 113 compounds found in cannabis – which is generally used to treat schizophrenia and epilepsy, however Usada opted not to punish the fighter claiming that he'd "mistakenly believed that the in-competition period had ended."
A third fight between Nate Diaz and Conor McGregor is still on the ropes after the Irishman is now scheduled to fight Floyd Mayweather in a boxing bout, but UFC president Dana White is confident Diaz will return to the octagon in the near future.
However, White was not so convinced that his older brother Nick Diaz would return following his latest suspension.
"I don't think Nick Diaz will ever fight again. White said. "I just don't think he has the desire anymore".